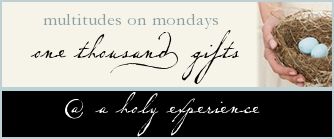 0119 – my first snow storm
0120 – sickness leaving the house, finally
0121 – baby smiles that completely redeem hard mornings
0122 – a clean basement!
0123 – a last second bolt out the door with a neighbor-friend for  some "alone" time at the movies
0124 – starbucks gift cards and surprise gifts in the mail from friends
0125 – good play time with neighbor friends' kids
0126 – the beauty of white, gleaming snow
0127 – planning for vacation time with FRIENDS this summer!
0128 – dreaming of the next international trip. sometime. soon. i hope.
0129 – snuggle time in the midst of drama time with #2
0130 – the snowman sitting on our bench in the front yard
0131 – free babysitting from family members and their significant others.
0132 – seeing #3 light up whenever #1 is around.
0133 – putting packages in the mail for people we love
0134 – organizing my office space
0135 – seeing neighbors respond with compassion and generocity when another neighbor's house burned down during the snowstorm.
0136 – coleman camp stoves
0137 – wood for the fireplace and a hubby who keeps it burning